NAVAL BASE YOKOSUKA, Japan — More than 100 high school students accepted their diplomas Thursday at Berkey Field in Yokosuka, a scene set to be repeated across the Indo-Pacific next week.
Department of Defense Education Activity-Pacific high schools began graduating May 25. When the caps are tossed in the air in Okinawa on Saturday, 845 students will graduate from a dozen schools in Japan, South Korea and Guam.
At the opening of Nile C. Kinnick High School in Yokosuka, former principal and guest speaker Craig Maxey mentioned some of the school's famous alumni, including "Star Wars" actor Mark Hamill, during his congratulatory speech.
"I'm confident that somewhere in the not-too-distant future, students at Kinnick High School will talk about you with other graduating students," he said.
Maxey also referenced the students' challenges with coronavirus restrictions, calling their high school years "anything but typical," but said they persevered nonetheless.
Unlike the past two years, when graduations and other events had to adapt to COVID-19, this year's ceremony took place without any visible restrictions.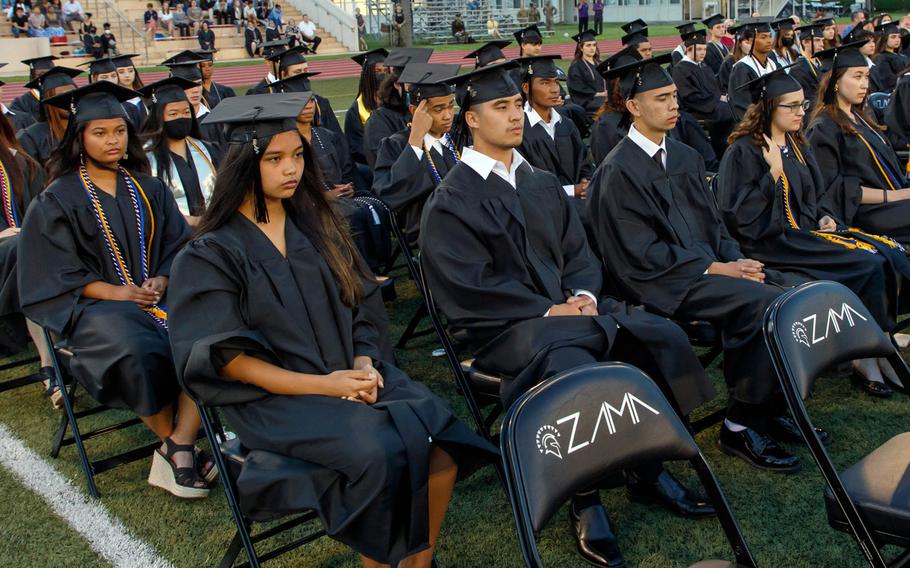 While every start is a special occasion for students and their families, this year also marks DODEA's 75th year sending graduates around the world.
"This year, we celebrate 75 years of educational support for military-related families – empowered by the ingenuity, dedication and focused optimism of the men and women who established and ran schools in the aftermath of World War II. world," said DODEA spokeswoman Miranda Ferguson. Stars and Stripes in an email on Wednesday.
Military bases provided schools for dependent children before the creation of DODEA. Its foundations were laid after World War II when the military established the dependent schools service in the occupied countries of Japan, Germany and Austria in 1946, according to the DODEA website.
By the end of its first year, nearly 3,000 students were enrolled in dependent schools.
After three years, the Army, Navy, and Air Force separately operated nearly 100 schools. In 1976, these systems began to consolidate under a single governing body – the Office of Dependent Education Abroad – before eventually morphing into DODEA.
Today, DODEA is responsible for educating about 67,000 students in 160 schools on four continents, according to its website.
"There have been many changes in the history of DODEA; however, one thing remains constant – students are at the heart of everything we do," Ferguson wrote. "Our DODEA students and graduates all share the unique understanding of living and learning as a child in the military, an experience that bonds our early students to those who fill our classrooms today. "
DODEA-Pacific schools that will hold graduation ceremonies over the past few days include Nile C. Kinnick High School in Yokosuka; Zama American Middle/High School at Camp Zama, Japan; Edgren Middle/High School at Misawa Air Base, Japan; Matthew C. Perry High School at Marine Corps Air Station Iwakuni, Japan; EJ King Middle/High School at Naval Base Sasebo, Japan; and Humphreys High School at Camp Humphreys, South Korea.
Upcoming debuts include Daegu High School (Camp Walker, South Korea) on Wednesday; Yokota High School (Yokota Air Base, Japan) Thursday; Kadena High School (Kadena Air Base, Okinawa) and Guam High School on Friday; Kubasaki High School (Camp Foster, Okinawa) on Saturdays; and Osan Middle/High School (Osan Air Base, South Korea) on Thursday.